Hello on this fair Monday!  At least in my part of Arizona it's a lovely day.
Since it's time for the Splish Splash Stash montly EPP link up, I thought I would give you an update on my myriad projects.  Some of these are cell phone pix and aren't the greatest.  Sorry!
I was queen bee in the I Love Lucy bee for February.  I chose yellow, orange, green and pink for my colors.  I still have a few blocks straggling in, but here's what I have so far.
I'm also in the Inchy Hexagon Flower Swap.  Here's my latest for that group.
During my long absence, I started basting one inch hexagons.
I started sewing those together.
Last but not least, I only have three corners left to applique on my jeweled star and the top is finished!!  Then I need to figure out how to quilt it.  I think that's why I'm procrastinating on finishing those last three corners!
That's everything in the hopper for now.  Geez, do I need any more projects?  LOL.  As I said, I'm linking up with Hydee over at Splish Splash Stash and you should too!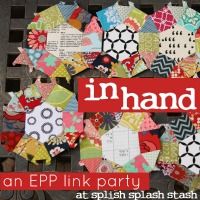 Sarah